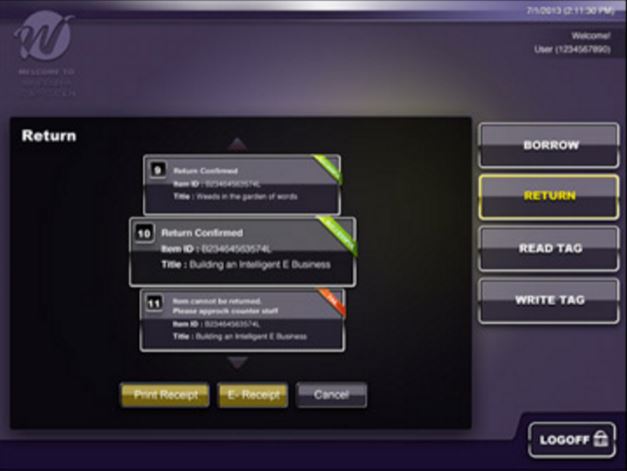 UHF RFID Library Project with the Attorney General Chambers, Singapore
Singapore Communications (Wavex) Pte Ltd (Singcomm), as HKC's wholly-owned subsidiary company in Singapore, does a very successful job for the Attorney General Chambers (AGC) that is the principal legal adviser to the Government, playing an important role in upholding the rule of law in Singapore. HKC's LIBRA3 RFID Library System Solution receives high evaluation and recommendation from the customer.
HKC's LIBRA3 RFID Library System Solution includes self-developed LIBRA3 application interfaced to CIVICA library management system (LMS), the ultra high frequency (UHF) Security Gate Modules, the UHF Self Check Station, the UHF Staff Stations and the UHF Stocktake Handheld modules. We also implement new UHF door frame antennas and ground mat antennas into this project to provide invisible UHF security gantries for our customer. The overall project is user-friendly, reliable and highly-functional. The LIBRA3 system and self-check kiosk are easy to use and the hidden antennas as RFID gantries impress a lot in the community. The stocktaking handheld has dramatically high performance to fasten the stocktake operation for 30,000 books within a day (or less). HKC's UHF RFID Library Solution empowers the internal work flow, important resource management and security for AGC, therefore to improve the overall operation efficiency and staff productivity. This successful implementation experience not only wins high comments from AGC but also shows our profession in providing RFID Library Solutions in the industry.